BUILDING YOUR BUSINESS PLAN & FINANCIAL MANAGEMENT
REAL ESTATE BUSINESS PLAN
Real estate agents are small business owners, every real estate agent needs a Personal & Business Budget as well as a Business Plan in place to succeed.
A real estate business plan keeps you accountable to hit the financial & business goals you have set. A business plan includes firm monthly/yearly production & financial goals to work towards & track.
TIME TO GET STARTED & MAKE YOUR PERSONAL BUDGET
Click on the + Blue button below and this will open up the modules.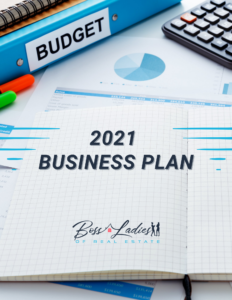 STEP 1. DETERMINE YOUR MONTHLY PERSONAL EXPENSES
TIME TO GET STARTED & MAKE YOUR PERSONAL BUDGET
There's a lot of Realtors who have sold a lot of homes and have earned a lot of commissions but have very little to show for it.
We have done the work for you. We have created for Boss Ladies of Real Estate members a Personal Budget located below – Click on the link.
https://agentsocialconnect.com/file/2021/09/BL-Personal_Budget.numbers
STEP 2. DETERMINE YOUR ANNUAL COST OF LIVING
How much income do you need to generate monthly? Next, determine what bills you'll need to pay for an entire year. Next, take that total of monthly expenses and multiply that number by 12.
STEP 3. HOW MUCH INCOME DO YOU WANT TO EARN?
Now you know how much income you need to get through monthly, and for the entire year.
Use your current annual cost of living as a benchmark, and write down a goal for how much income you want to earn yearly after taxes. This is will be your target take-home income.
STEP 4. DETERMINE YOUR TAXABLE INCOME
It's time to determine your taxable income which will be the amount of income you'll have to earn to reach your take-home goal after federal and state income taxes are withdrawn.
WHAT IS YOUR GROSS COMMISSION INCOME (GCI)?
Your taxable income is what's left after all transaction fees, commission splits, business expenses, and other costs are deducted from your Gross Commission Income (GCI).
This can get somewhat complicated because every agent has a different situation.
To make this simple to understand we're going to only focus on commission splits and fixed business expenses.
We will work backward, filling in the gaps between your target taxable income and a target GCI.
DETERMINE YOUR BROKER COMMISSION SPLIT OR CAP
A portion of every commission income goes to your broker. It may be a straight commission split based on a percentage of your GCI, or it might be capped at a certain value.
This varies from broker to broker. Let's go over a few different scenarios.
ANNUAL BUSINESS BUDGET & EXPENSES
Each year you'll have Annual Business Expenses that are necessary to operate your real estate business. Some of these are reoccurring yearly expenses including board dues, application fees, and other services, such as technology costs. Use the budget to estimate your expenses. Remember to total these up as a yearly cost, as opposed to the monthly costs from earlier in this guide.
Success Tip: Refine your business & financial plan throughout the year. Analyze your personal and professional spending numbers so you'll know when & where to make cuts to hit your target business, financial, and marketing goals.